Curried Lentil-Vegetable Soup


Full of zesty flavor and high in fiber from brown rice and red lentils, this soup is very healthful, without tasting even slightly "health-foody." It's also quite economical. Depending on the curry powder used, the soup can be slightly spicy or pack a good bit of heat.
Makes 4 160-calorie servings, about 1 2/3 cups each.
1 1/2 tsp olive oil
3/4 cup each coarsely chopped onion and chopped celery
1/2 cup each chopped sweet red or green pepper and diced carrots
6 cups fat-free reduced-sodium chicken broth or vegetable broth
1/4 cup each uncooked red lentils and uncooked long-grain brown rice
2 to 3 tsp mild to medium-hot curry powder (your preference)
1 tsp dried thyme leaves
3/4 tsp ground cardamom or 1 tsp ground allspice
1 14.5-oz can diced tomatoes (or tomatoes seasoned with garlic and oregano), including juice
1/4 tsp each salt and black pepper, or to taste
2 Tbsp chopped cilantro leaves for garnish, optional
1. Combine oil, onion, celery, sweet pepper, and carrots in a 4-quart soup pot or saucepan. Cook over medium heat, stirring constantly, until they are soft and beginning to brown, about 5 minutes.
2. Add broth, lentils, rice, curry powder, thyme, and cardamom to pot. Bring to a boil over medium heat, stirring frequently. Adjust heat so the mixture just barely simmers; cover and cook, stirring occasionally, until rice is just tender, about 20 to 25 minutes.
3. Stir in tomatoes and their juice. Bring back to a boil. Add salt and pepper to taste. Serve in soup plates, garnished with fresh cilantro, if desired.
Keeps, covered and refrigerated, for up to 4 days. May be frozen for up to 2 weeks.
Two-Minute "Baked" Egg 'n' Muffin Breakfast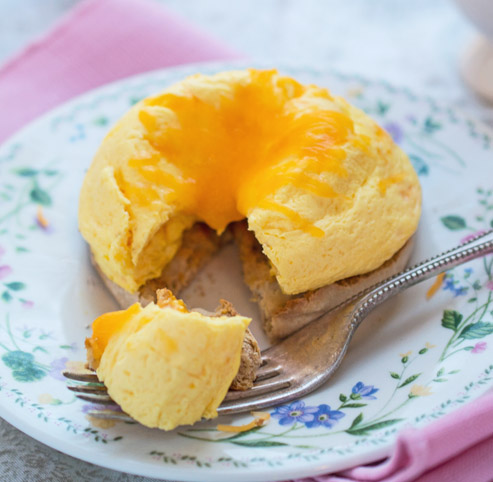 On a busy diet-day morning this makes a nourishing, but nearly effortless, hot breakfast. As written, the recipe is vegetarian, but, for a slightly heartier meal, we occasionally toss a slice of diced, cooked Canadian bacon or 1 tablespoon leftover, lean ham into the egg mixture before baking. If you decide to do this, note that it will add about 40 more calories to the dish!
Tip: We sometimes cook an extra slice of Canadian bacon on regular days, then stash it in the refrigerator to add to our Egg 'n' Muffin meal.
Makes 1 120-calorie baked-egg breakfast dish, 1 baked egg and 1/2 light English muffin each.
1/3 cup liquid egg substitute
2 1/2 Tbsp shredded 2-percent-fat shredded sharp Cheddar cheese
1/8 tsp salt
Freshly ground black pepper to taste, optional
1 well-toasted "light" multigrain English muffin half
1. In a 1-cup measure stir together egg substitute, all but 1 teaspoon cheese, and salt. Spray a 1-cup (or slightly larger) glass custard cup with nonstick spray.
2. Pour egg mixture into custard cup. Place in microwave oven, and cover with microwave cover or wax paper. Microwave on 50-percent power for 1 minute. Then, checking for doneness at 20-second intervals, continue microwaving until egg puffs up and appears set except in very center (which should look barely runny).
3. Put toasted muffin on a serving plate. Run a table knife around and under baked egg to loosen it from cup. When egg is fully loosed, turn it out onto muffin half.
4. Garnish top with remaining 1 teaspoon shredded cheese and serve.
Serve immediately, as muffin will lose crispness and egg will become too firm upon standing.